**Disclaimer: As an Amazon Associate I earn commission from purchases following qualified links in "Top 5 saltwater lures".
If you look in a tackle store or online, you'll see that you have tons of choices for lures. This can certainly be confusing. Not only that, but how do you know what works and what doesn't? I am going to break it down and give you my top 5 saltwater lures! These may be different from your list, just my opinion!
The Paddle Tail 
Paddle Tails are an absolute necessity for the lure fisherman. Aptly named for the shape of their tail, they give off vibrations which attract a wide variety of gamefish. Snook, redfish and trout for example.
Rig them weedless or on a jighead for best results. My person favorites are made by DOA Lures. I feel this way because I think that they swim well and consequently have caught a ton of fish on them.
These may be the most important lure you need to own.
The Topwater 
Topwater plugs come in all shapes and sizes, however they should all share two main characteristics; one, they float on top of the water, and two, a "walk the dog style" action.
These lures have the most success in low light conditions over still waters. No other lure on this list provides better heart-pounding action than topwaters.
Note*: Remove treble hooks and replace with inline circle hooks to help protect fish.
My personal favorite as seen below: MirrOlure Mirromullet
The Shrimp Pattern
Whether it's hard or soft plastic, the fact remains, shrimp lures work. This is because every fish in the ocean eats shrimp!
There are some extremely lifelike versions available today, however my personal favorite is the Gulp! brand. Gulp baits are soaked in a fish attractant that works better than anything on the market. Crawl or hop this guy along the bottom occasionally pausing for consistent bites. You can also fish this in the same way as a live shrimp under a bobber.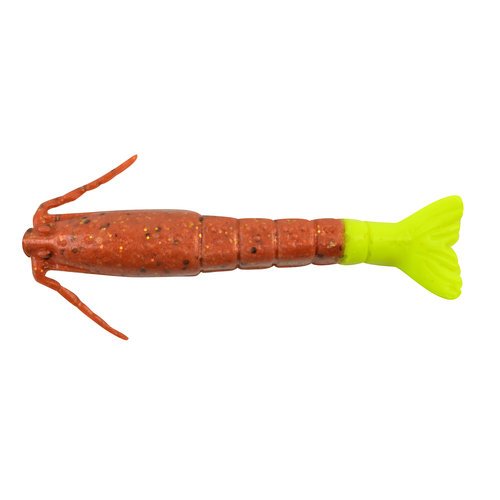 The Suspending Twitchbait 
Unlike paddle tails and shrimp patterns, these baits don't sink to the bottom, rather they float in the middle of the water column at a pre-determined depth.
Because they're not being fished on the bottom, they are in no danger of being hung up on structure. Additionally, they have the added utility of being able to be trolled. Plus since these are hard bodied baits, they're very durable.
This is a toss up between my two favorites, the Yo-Zuri Crystal Minnow and the MirrOlure MirrOdine. I've caught a ton of fish with both of these lures over the years, subsequently, there is no clear winner here.
The Jerkbait 
Finally, jerkbaits are my final of the top 5 saltwater lures. Jerkbaits are similar to paddle tails, however they differ by having a forked tail and longer body.
Generally speaking, fish these just as you would a paddle tail, on a jighead or weedless.
My recommendations: Firstly, Z-Man Scented Jerk Shad. Secondly, Gulp! Jerk Shad.
You certainly need a bag of these in your arsenal.
Bonus: Jigheads and weedless rigs 
If you're going to fish soft plastics, then you'll need a way to rig them!
My recommendations: Firstly, Mission Fishin. Secondly, Hookup Jigheads.
Thirdly: Not a true jighead at all, but Z-man Texas eye weedless jighead!
Fourthly: ???
Alternatively, jigheads can also be used to present live and cut bait. However, weedless rigs like the one above are not effective for presenting live or dead baits.
Safety
In the same vein that you value knowing how to use lures to catch fish, it is also important to be safe around lures. For instance, if you catch a fish and have it boatside it could spit your hook and put a treble hook in your eye before you know it!
It is for this reason that you should always exercise caution when fishing with lures. Additionally, you need to have a plan if it happens so that you don't panic. Staying calm is the most important thing.
In case of a hooked appendage, go to the hospital. Letting trained professionals take care of you is the most important thing. Moreover, trying to do things yourself can actually make your situation worse.
In Conclusion 
This list is not in any particular order, none the less, I think all these lures are great for fisherman of all skill levels and goals. I feel this way because they produce, simple as that. By all means, use what ever you want, this is just my opinion.
If you don't believe me, then just check out the slide show!
In other words, these lures slay.
If you enjoyed this post, then stay tuned. I have more great content coming that I certainly feel that you'll love. However, if you're looking for some reading material in the meantime, then check out some of my other blog posts.
For example, Tekeze Charters TV and How to Throw a Castnet 2.0. 
Until next time, tight lines.