**Disclaimer: I earn commission on purchases through Amazon Affiliates with qualified links.
I typically don't fish freshwater, however when I do, these are the choice lures that I use. Here is my list of the top freshwater lures.
Note*: The focus of this article is largemouth bass in local lakes and ponds. At the same time, these lures can also be used to catch a number of other species as well.
Additionally, these recommendations are directed at weekend fishermen and guys who want to head down to their neighborhood pond. There are certainly situations where more nuanced approaches are required for success with bass.
Finally, these recommendations are just my opinion based on personal experiences. By all means use whatever is tried and true for you!
Spinnerbaits 
I mentioned these baits when I discussed top saltwater lures.  Consequently, just like they work for redfish, they work for bass. The blade throws off vibrations and flash in the same vein as a fleeing shiner thus attracting bass.
Retrieve with high speed near cover for hard hitting hook ups. However, be mindful of snags and catching vegetation. Be sure to clean your lure of grass after each cast.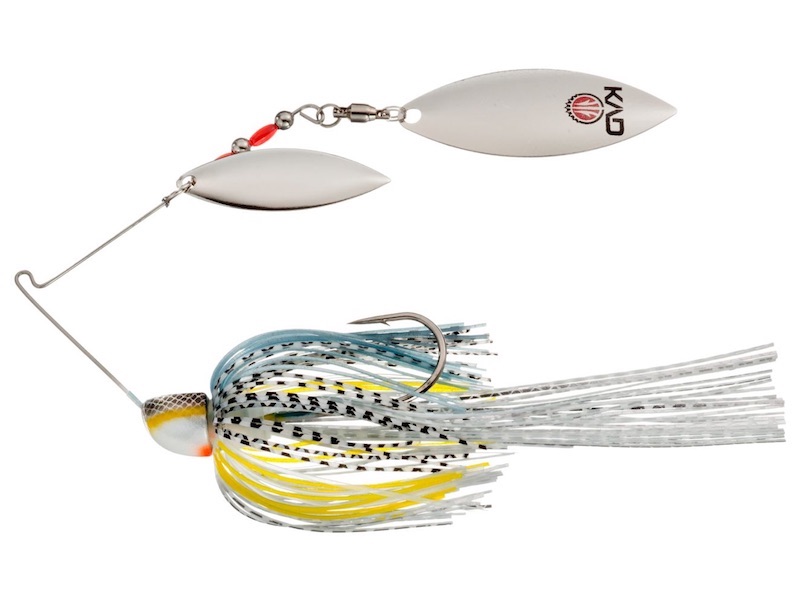 I recommend Dixie Dancer brand lures in white or black/blue.
Frogs 
Above all, bass LOVE topwater frogs. This list is in no particular order, but frog pattern lures are money for bass. When I flyfish in fresh water, I always throw a frog pattern.
Work these lures by lilly pads for insanely explosive bites, subsequently, I like the BOOYAH Pad Crasher. 
Worms 
Generally speaking, worm imitations are tried and true. These will pretty much always work. Not only do they work, but they work pretty much no matter how you rig them! Wacky rigs, Texas rigs, even on a jighead – these will certainly catch fish. From time to time you may have to try a number of presentations, but eventually you'll hit pay-dirt.
Junebug, watermelon and pumpkinseed are my top colors. I recommend Zoom Brand.
Crankbaits
Crankbaits are practically idiot proof. See below to learn how to fish them.
Firstly: Cast
Secondly: Reel back to shore
Thirdly: Hold on.
The lip enables the lure to dive and wobble as it swims through the water.
These lures slay. Even though they may catch grass on the retrieve, most bass don't seem to care, they'll still jump all over it. That being said, clean grass off your lure before each cast.
Note*: Replace treble hooks with circle hooks to help protect fish.
My recommendation: Rapalas in firetiger, chartreuse or pumpkinseed.
Critterbaits
Finally, critterbaits are any number of lures that imitate other forage species. For example, grubs, crayfish, lizards and snakes can be considered critterbaits. Definitely get creative with these, as these can be rigged in a variety of ways and fished in a number of situations.
My recommendation: Fanatik Baits
In Conclusion 
Check out these fish that were landed on all these lures (as can be seen below):
To put it another way, these lures crush bass.
If you enjoyed this post about my top freshwater lures, then stay tuned for more awesome content coming soon. I have some great stuff coming down the pipeline that I certainly think that you'll enjoy.
In the meantime, be sure to get out and try some of these! Good luck!
Until next time, tight lines.